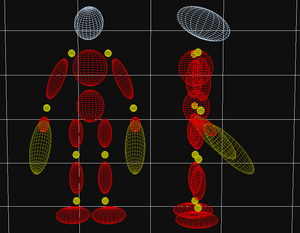 Protohuman is writer on BZPower. His genres range from Bionicle Comedies to COT Epics. His most famous comedies are the Me and the Bionicles series and Bionicle: Through Time and Space. His work is usually assiociated with Makuta of Comedy and Lashes From Nine, who commonly guest star in each other's works.
Biography
Edit
In December 2008, before he had join the site, Protohuman had written a whole comedy series entitled BIONICLE THING. In March 2009, he joined BZPower in order to make his fiction public. It got very few replies, and was a very low-quality comedy. The end of series one was marked with a message, 'BIONCILE THING Will Return In Two Weeks'. But seeing as it was such a choppy saga, Protohuman didn't bother to post series two...
But about a month later, a new idea for a comedy was produced: Bionicle: Through Time and Space; a franchise which followed the Toa Nuva travelling around the universe, in order to defeat the evil Cruor. The series reached ten episodes, and an epilogue. Then five "unreleased" episodes were posted, under the name B:TTAS: The Lost chapters. Then, a final epic entitled B:TTAS: The Movie!, which served as a series finale.
After then, PH had a lot of comedies in production, but the first to make it was Me and the Bionicles, debuting with the first series, Around the World in Eight Chapters!. The series was successful, and then came The Next Configuation, and then Adventures of Four... People!.
After that came Vahki Academy. A new series, following the adventures of three Vahki in Metru-Nui. It made two series. Unfourtunatly, it was cut off in the middle, due to Potty Humour.
On Christmas Eve 2009, an Xmas Special to Me and the Bionicles was posted.
Protohuman's whole comedy Multiverse also had a massive story arc, uniting all the universes togehter, which will be concluded in the upcoming Me and the Bionicles: The Movie!, which will not only serve as a series finale, but as a climax to his comedies.
Comedies Written
Edit
-BIONICLE THING
-Bionicle: Through Time and Space
-Me and the Bionicles!
-Vahki Academy
-Mata Nui Rising (mini)
Personal Life
Edit
Protohuman lives in England, in a town he refuses to mention by name. He was born to a Bangladeshi mother and an English farther. He is mixed-race in skin terms.
His tastes in music are Psychedelic Rock and Punk Rock. His favourite artists are Jimi Hendrix Experience, The Beatles and Jefferson Airplane. He and his friends intend to start a Punk band later in the year.
His religous views are Christian, but also follows his own philosophy.
His favourite TV shows are Doctor Who, The Simpsons, Family Guy and The Mighty Boosh
Protohuman has declared that he will reveal his true name at the very end of his final comedy.
He is also an amature cartoonist. His animated shorts can be seen on Youtube, under the name OrbusStudios.
Community content is available under
CC-BY-SA
unless otherwise noted.