The CCC Awards is an annual award "show" that appraises comedies and decides which are the best. The show is divided into two parts: The Golden Haus and the People's Choice Awards. The awards are split into man different categories, including best comedy, best character, and best author.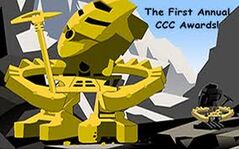 Nominations
Edit
To be considered for either one, a comedy must be nominated for a specific award. The nomination period lasts about a month. There is no limit to nominations, although there has been incidents in the past where excessive nominations got one comedy into trouble. After the nominations are completed, the Golden Hau decision period begins.
Golden Haus
Edit
The Golden Hau for each category is awarded mainly based on the decisions of the CCC. The CCC goes through and looks at each nomination, and decides on the best one from that list. The best nomination wins the Golden Hau award for that category.
People's Choice
Edit
After that's finished, a voting period for each category occurs. The voting period is open to anyone and everyone, and the comedy/joke/character/etc. with the most votes wins the People's Choice Award for that category.
Community content is available under
CC-BY-SA
unless otherwise noted.